In 1922, our current moving and storage company was founded as the Maher Brothers, in Iowa City, which primarily transported consumer goods across the country. Even though we'd yet to become the household movers Des Moines, IA and Davenport, IA customers trust more than any other competitor, our early history taught our founder, Mr. Dennis Maher, the importance of accommodating and transparent customer service. As a family-owned and operated business, Maher Brothers prioritized customer care above everything else because nothing makes a move easier than doing it with reliable movers that value your time and money.
Celebrating 100 Years
Download our 100-year brochure and learn more!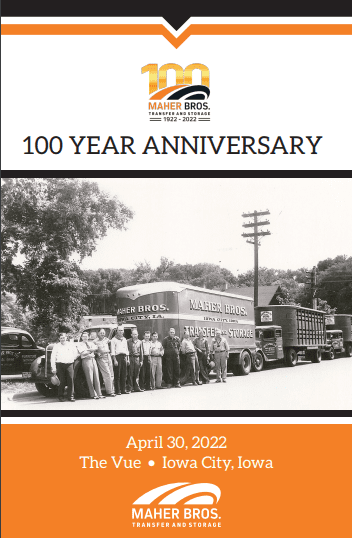 Moving and Storage Services in Des Moines, IA & Davenport, IA
As our moving company grew, it expanded its moving and storage services to including residential moving and, during the 1950s, Maher Brothers Transfer & Storage transitioned to new ownership under the Riley family, who, to this day, continues the near-century-old tradition of prioritizing first-rate customer care above all else.
During the 1980s and 1990s, Maher Brothers further solidified itself as the reputable movers Des Moines, IA and Davenport, IA customers could trust by establishing moving and storage services terminals in the Quad Cities market. Then, in 1995, Maher Brothers further confirmed itself as a leader among moving companies by becoming an affiliate of Allied Van Lines. In the summer of 2016, Maher Brothers Transfer & Storage strengthened its partnership with Allied as well as its moving and storage service area radius by acquiring the Des Moines market, where we will continue our proud tradition of providing hauling and logistical services that few competing moving companies can match.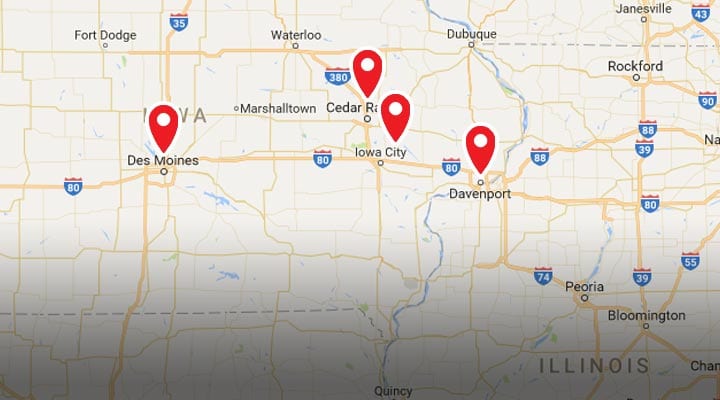 Today, when it comes to quality and reputable moving companies in Des Moines, IA and Davenport, customers collectively agree that Maher Brothers is the gold standard. Our connections to Allied's global network of moving and storage professionals as well as with CRST and their fleet of specialty hauling vehicles give our movers the industry-grade resources to streamline any relocation, but our comprehensive customer care and guidance is what truly defines the experience of moving with us.
When selecting between quality moving and storage companies in Des Moines, IA and Davenport, IA, customers alike value industry experience, customer transparency, and excellent service variety. Maher Brothers Transfer & Storage has defined its near-century-old legacy by providing all three along with our focused, cost-effective moving solutions. To learn more about how Maher Brothers Transfer & Storage continue to set the standard as the premier choice among competing moving companies, contact our friendly representatives today or fill out our quick online form to receive your free, no-obligation quote!